The living area of a Truckee, California, family home,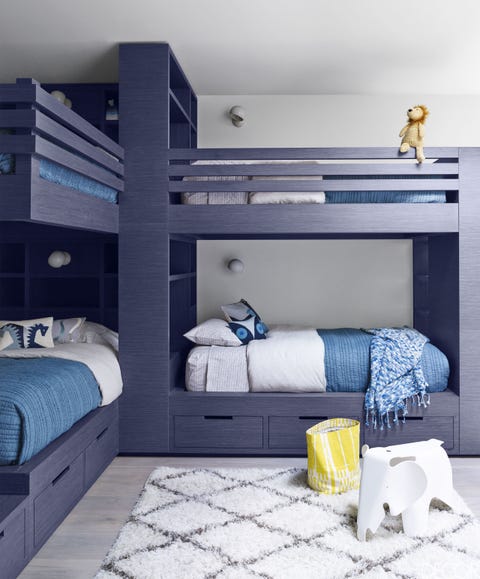 The living area of a Truckee, California, family home,
which was designed by architect Cynthia Wang of Studio Ren and interior designer Jamie Bush.
The curved club chair by Marmol Radziner is upholstered in a cowhide by Townsend Leather, and the cocktail table,
dining table, and sofa and armchairs,
which are covered in a Zinc Textile velvet, are custom designs; the light fixture is by Tom Dixon,
and a custom-made silk rug tops the polished black concrete floor.
The woodsy site, in a secluded community
with spacious lots and generous setbacks, offered mountain views with a forest behind the backyard.
The setting seemed to want a glassy, open Southern California house that brings the outside indoors.
Custom-made bunk beds in the children's room are dressed
with bedding by John Robshaw and pillows by Jonathan Adler;
the shag rug is by NuLoom, and the flooring is walnut.
"We pushed the limit in all the living areas downstairs with
as much glass as possible," says Wang, "all of it double-glazed and thick,
to keep the house comfortable while giving the sense of living outside.
" She grouped the bedrooms and children's playroom as a retreat on the second floor,
in a long cedar-sided box engineered to cantilever daringly beyond the glass walls and out over a covered terrace.
The crisply tailored, magically levitated mass, anchored at its ends by stone piers, is structured by a hidden steel truss. ออกแบบบ้าน