The Best Movies to Watch on Amazon Right Now
Amazon Prime isn't just for next-day toilet paper anymore: Your subscription includes countless shows (even some of Thrillist's own!) and movies to stream, ranging from recent hits to old-school faves. Here's a slew of options for you, whether you're in the mood for sci-fi, a rom-com, or anything in between—the best Amazon movies out of the thousands of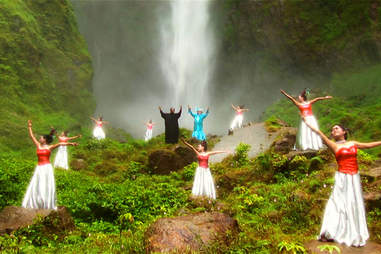 The Act of Killing (2012)
Before The Look of Silence, which earned a place on our best movies of 2015 list, documentarian Joshua Oppenheimer investigated the 1965 Indonesian genocide through the eyes of its perpetrators. Anwar Congo, a gangster sanctioned by the government to eliminate "communists," begins by bragging to Oppenheimer about murdering over 1,000 people. His glory transmutes into a meta-atonement when Act of Killing casts Congo in the "movie adaptation" of his own life. It all makes sense when you submit yourself to Oppenheimer's bizarre, tragic, and eye-opening experiment.
Almost Famous (2000)
Cameron Crowe's semi-autobiographical coming-of-age travelogue and rock hagiography feels, nearly two decades after its release, like the perfect film to cap the 1990s. It views the excess-driven world of 1970s rock-and-roll through a hopeful lens, one in which even the most brutal fights can produce saccharine moments of beauty (see: the "Tiny Dancer" scene), and through all the trials and tribulations aspiring rock journalist William Miller (Patrick Fugit) faces, you always have the sense that things will turn out all right. With a killer soundtrack, a host of career-best performances from the likes of Kate Hudson and Jason Lee, and perfectly placed moments of levity ("I'm gay!"), Almost Famous is like that comfortable old sweatshirt from high school that you can't bear to throw away.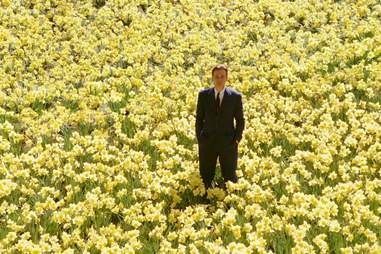 Big Fish (2003)
Albert Finney stars as Edward Bloom, a dying fabulist struggling to connect with his estranged son (Billy Crudup), and a grinning Ewan McGregor plays the younger version of Bloom as an earnest and wonderstruck adventurer. A mermaid, a werewolf, and a tender-hearted giant pop up as well. Despite all the wild creatures, Big Fish is perhaps director Tim Burton's simplest and most emotionally direct movie, an old-fashioned tearjerker tricked out with fanciful special effects, quirky performances, and one of Danny Elfman's best scores. It tugs at the heartstrings with studied precision.
The Big Sick (2017)
Kumail Nanjiani and writer Emily Gordon adapted their real-life meet cute, and an encounter with illness that landed Emily in the hospital just months afterward, into this moving, melancholy rom-com—like a Terms of Endearment for the Trainwreck era. Fans of the comedian's stand-up or work as Silicon Valley's Dinesh will go nuts for The Big Sick's steady stream of laughs. But when the couple's life takes a turn for the worse, and Kumail's Pakistani heritage pressurizes the situation with demands of arranged marriage, Nanjiani's fans will cling to the jokes like a life preserver. Anchored by his sensitive performance, and bolstered by Ray Romano and Holly Hunter as Emily's fretting, foulmouthed parents, The Big Sick is a reminder that fate is fickle, self-determination is fickler, and we all deserve a good laugh-cry once in awhile. ดูหนังออนไลน์