KEEP SPACING UNIFORM AND ALWAYS PAINT IT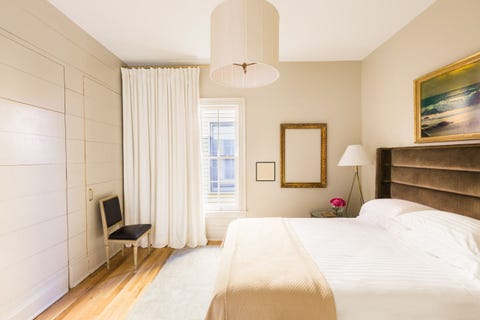 KEEP SPACING UNIFORM
Got a nickel? Great, then you can pull off a contemporary shiplap look.
"When you use shiplap, clean installation is what makes it look contemporary rather than country," says Nashville-based interior designer Jason Arnold. "Use a nickel as a spacer between boards to give it a very uniform, modern look."
In this Nashville home Arnold designed, an entire wall of the guest bedroom is covered in uniformly-spaced shiplap — even the closet doors.
ALWAYS PAINT IT
If you're trying to send a message along the lines of "Greetings, folks, I'm Tom Bunyan!" then go on, leave that shiplap bare. Otherwise, always paint or stain the wood.
"White painted shiplap has a bit of a Cape Cod look that's clean and fresh, so it's terrific for a kitchen, laundry room or bathroom," says Rita Konig, a London-based interior designer, who designed the California home below. "If you have a smaller space you want to add some interest to, however, paint it either a [more dramatic] dark or bright color."
EMBRACE ITS VERSATILITY
"Architectural details have the ability to add warmth to an unadorned room," says Sweeten Founder and CEO Jean Brownhill."You can install shiplap horizontally to create interest around an entire room or vertically to give height to a space—and to draw your eye up to the oft-neglected ceiling. You can even apply the material on an asymmetrical or slanted surface for a charming touch."