HOUSE TOUR: A CLASSIC MIDCENTURY HOME IS THE EPITOME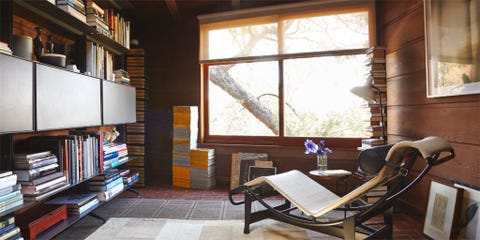 Rozae Nichols has an obsession with pattern and color
—the wilder and more evocative, the better.
As the creative mind behind the fashion label Clover Canyon,
known for its architectural silhouettes fashioned from bold,
kaleidoscopic prints of her creation—top sellers at Neiman Marcus and on Net-a-Porter—Nichols clearly never got the memo
that the little black dress reigns.
Which is what makes the Laurel Canyon home she shares with her husband, Ian Murrough,
who co-owns a boutique ad agency,
all the more extraordinary.
A mere 1,000 square feet, with two bedrooms and a single bath, the house is a study in virtually monochromatic, pared-down cool.
Built in 1948 and dominated inside by the deep tones of redwood and brick, it is, Nichols says, "a visual reprieve"
from a life spent collecting textiles to use as inspiration for her own riotous vision. "When so much of your work is spent delving
into color and texture, you need a neutral palette to be able to think, to move on, to move up."
From time to time, she brings out the vivid fabrics she has amassed over the years and drapes them over the furniture to see if she can live with their energy. But in the end,
she folds them and puts them away:
"My mind just wants the rest."
The couple has lived in the house for more than 20 years.
The area in which it is nestled was ground zero for the 1970s West Coast rock scene, the enclave where Joni Mitchell, David Crosby,
and Jim Morrison rode wailing guitars into the night.
"You look out and you still feel it," she says.
"Up here, things really haven't changed much." ออกแบบบ้าน