FASHION DESIGNER JEFFREY DODD'S DOWNTOWN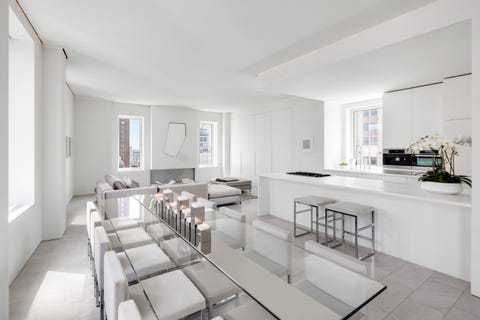 Fashion designer Jeffrey Dodd chats with ELLE Decor about his modern yet inviting penthouse in downtown Manhattan.
ELLE Decor: You're known for your clean-lined womenswear. Your downtown New York penthouse seems to have the same aesthetic. When did you move in?
Jeffrey Dodd: Around five years ago. We completely gut renovated the apartment and reconfigured the floor plan. The only two things we saved from the original apartment were an oven and a shower head.
ED: What drew you to the apartment?
Dodd: It's much bigger than our previous apartment, where we were slowly running out of closet space. Now, we have a proper living room, dining room, and even a storage closet for suitcases.
ED: What was your inspiration?
Dodd: Our previous apartment was all black—it was more like a hibernation den. Here, we wanted the opposite: light and energy. We wanted it to be minimal and modern, but still have a warmth to it.
ED: What are your three favorite pieces?
Dodd: We worked with Alexis Dahan on the piece of art that hangs above the fireplace. Then, there's a series of artworks by Alison Rossiter, which I've always loved, and in the walk-in closet there's an Agnes Martin, who has been one of my favorite artists since I was a kid.
ED: What were your design objectives for the space?
Dodd: Durability! Even with our dog, it holds up for an all-white apartment, and the surfaces can be easily cleaned.
ED: How is crafting an interior the same or different than designing fashion?
Dodd: The biggest difference would be timing: this took us two and a half years to complete, whereas I turn around collections in three months. But they're both equally labor intensive and require a similar precision.
รับออกแบบบ้าน