A FAMILY OF FOUR LIVES IN THIS SPARE, MODERNIST STOCKHOLM APARTMENT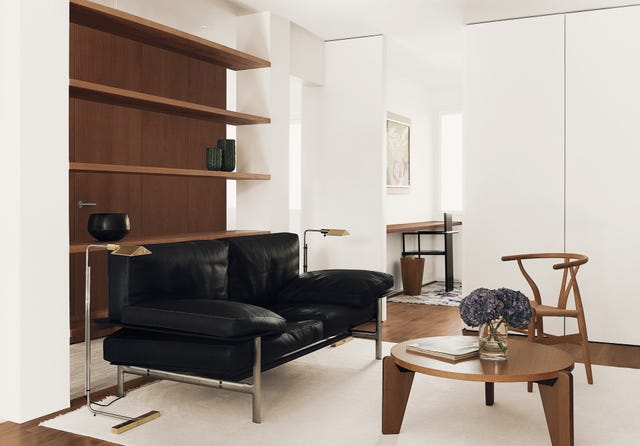 As a creative director,
Anton Wikner is experienced in transforming rough gems into sleekly faceted stones. Still,
he stacked his decks when he and his wife,
a writer, purchased a "run-down" (in his words) apartment in Stockholm as the home base for their budding family.
The 882-square-foot residence, whose interiors hadn't been updated in decades, is in a circa-1960s
modernist building by architects Ragnar Westrin and Stefan Szejnman in the charming Södermalm neighborhood,
more often home to cottages and turn-of-the-century places.
"I think the facade and the building itself scared a lot of people,"
says Wikner, who is the founder of the branding,
design, and art consultancy Unestablished.
"What attracted us to a modernist home was, one, that we're a family, and a lot of modernists or International Style modernists were obsessed with function. And also, the rejection of all ornament and color resonated with our mindset at the time."
Wikner designed the space with input from his wife; the two live there with their two children, ages one and four. He spent three months planning out the changes and another 12 weeks completing a total renovation, while still preserving the basic layout. The apartment comprises an open space divided into dining, living, and lounge areas; a kitchen; a bathroom; a small study; and two bedrooms, separated from the public spaces by alderwood panels, some of which function as sliding doors. The decor, which leans toward minimalist furniture by Jean Prouvé, Charlotte Perriand, and Jean-Michel Frank, embodies cool restraint, though Wikner notes that it is hardly a done job. สถาปนิก